A few weeks ago, I released the first version of my W' Bal datafield on Garmin Connect IQ. This app is designed to display the remaining value of W' during a ride on the cyclist's device. Let's dig a bit into this interesting value…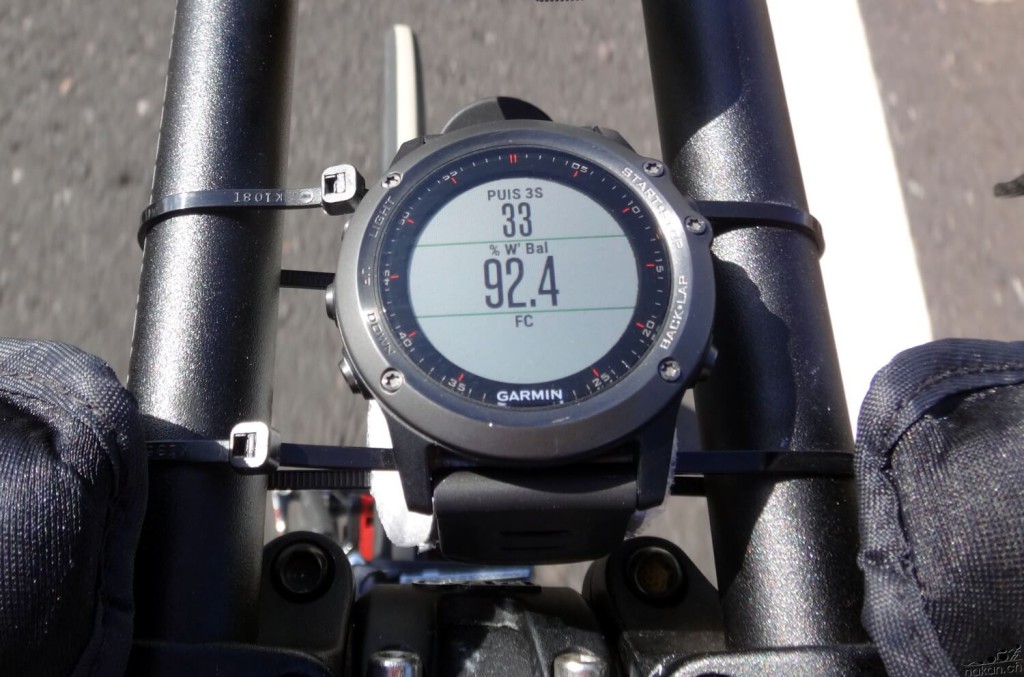 What is W' Balance ?
To make it simple, assume that a cyclist have a given amount of energy at the beginning of a ride. This value, known as W' (or W prime) is measured in joules.
While you're riding at low intensity, W' remains at it full level, and you can theoretically continue riding at this intensity for a while. But if you push harder, you will start using this energy. The limit at which you will start lowering the W' is known as CP (Critical Power). At my level, I use to consider my CP and FTP as the same value.
So if you push on the pedals harder than CP, W' will decrease. As soon as your watts get lower than CP, W' will "regenerate", and the value will increase again. So if you ride long enough below CP, W' will be at 100% again.
All these variation in W' are expressed as "W' Bal" in the Dr. Skiba theory, and this value was then implemented on the GoldenCheetah software, on the "Charge" chart of a ride:
You can note on this chart the peaks above CP (the line is going down, as the amount of remaining W' decrease), and the periods where power is below CP (the line is going up, as the amount of remaining W' increase).
To be able to compute W' Bal, we need two values:
CP: a given threshold (watts)
W': a given amount of energy (joules)
How to get my CP and W' values ?
To estimate your CP and W' values (if you don't already know them), GoldenCheetah provides a tool in the "Tools -> Estimate CP and W'" menu. Here you can enter you maximum amount of watts for a short effort (3-5min) and a long one (15-60 minutes). Based on that, it will give you an estimation of W' and CP.
Of course, if you already know your FTP value, you can use it as CP.
Compute methods (the real maths behind the data)
Initially, the only known formula to get W' Bal was the one from Dr Skiba. It was the one implemented in GoldenCheetah at the beginning. On my data field, it's called "integral" and it's the default method, just because I prefer it… This formula uses another parameter to define the speed at which W' is regenerating when the power is below CP. This value is known as TAU, and it's based on the activity history.
The second method, by Froncioni / Clarke only use current power to compute recovery, so with this formula, W' Bal will usually regenerate faster, and decrease faster as well. It's now the default method on GoldenCheetah. It's known as "differential" and available starting from version 1.2 on my data field, but you have to configure "compute method" parameter to "differential" instead of "integral".
What is the difference between the two formulas? This one: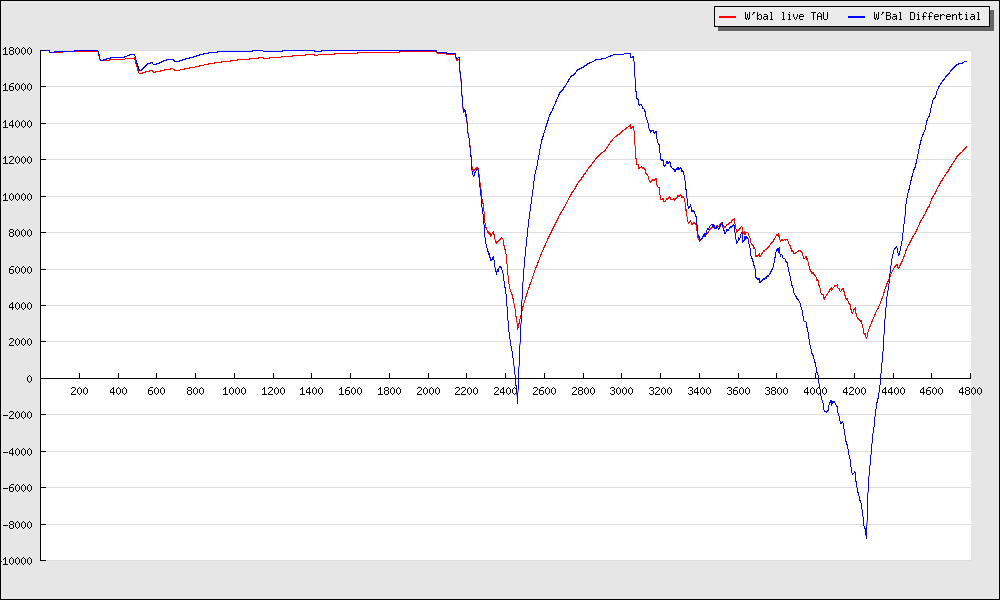 The blue line is the differential formula (the one used by default in GoldenCheetah). The red is the integral formula of Dr. Skiba. Values here are for a mixed field test (5min VO2Max, 10 min recovery, 20 min FTP test).
The only advice I can give you is: try both formulas and choose the one you prefer. Science has not yet validated one against the other.
Where can I get this app ?
First, you will need to ensure your Garmin device is compatible with Connect IQ apps, and has an updated firmware. Compatible devices with powermeters and Connect IQ are, at the time of writing are:
Forerunner 920XT
Fenix 3 / Fenix 3 HR
Edge 1000
Edge 520
Epix
Then, go to the Connect IQ store on Garmin Connect Mobile, or directly at this page: https://apps.garmin.com/en-US/apps/6dcfffe5-cd3d-41f3-8ba3-13fa0647b003 and get the stuff.
You will have to change the three parameters to suit your values (CP, W' and Method).
Can I get the sources ?
Yep, all the source code is available on Github here.
Anything else ?
Feel free to leave a comment to this entry for any feature request, bug, advice or question. Enjoy your ride!